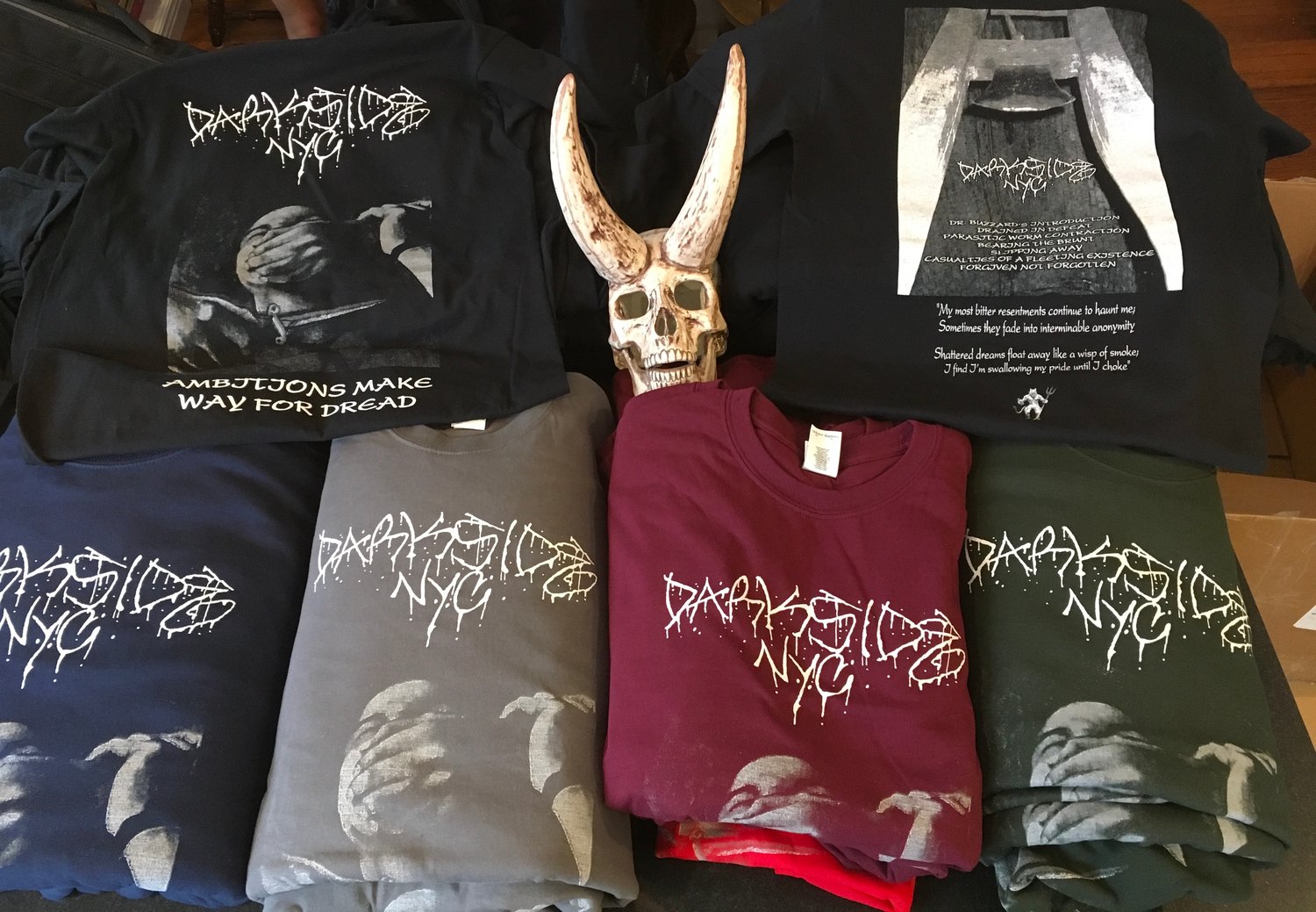 Darkside NYC T-shirt — Ambitions Make Way For Dread
2-sided. 2 screens.
NOW IN STOCK!!!
Sizes S - 3XL
Black, Navy, Gray, Forest or Maroon
[Colors are running very low and some colors and sizes have sold out. If ordering colors, please provide alternates just in case.]
For bulk domestic, wholesale or international orders, contact us directly:
SatanWearsSuspenders@yahoo.com
Shipping via USPS is crazy.
While it is possible to ship a single S or M shirt to Canada/Japan/Europe for under 8 oz., most packages of 1-3 shirts end up being 9-32 oz. Packages of 4-6 shirts end up in the range of 33-48 oz.
Shipping to Canada: $10.50 (under 8 oz.) / $17.25 (9-32oz.) / $26.50 (33-48 oz.)
Shipping to Japan: $14.25 (under 8 oz.) / $23.50 (9-32oz.) / $35.00 (33-48 oz.)
Shipping to Europe: $14.25 (under 8 oz.) / $24.00 (9-32oz.) / $37.50 (33-48 oz.)
We therefore encourage bundling orders to avoid overpaying shipping on a single item. (Paying $24 shipping for 3 shirts is only $8 each—way better than $24 for just one!). While we've enabled the shop to accept international orders, please refer to the guide above. We reserve the right to cancel any order that exceeds our ability to reasonably fulfill it. (For instance, ordering 10-20-30 shirts for the base shipping price only.)