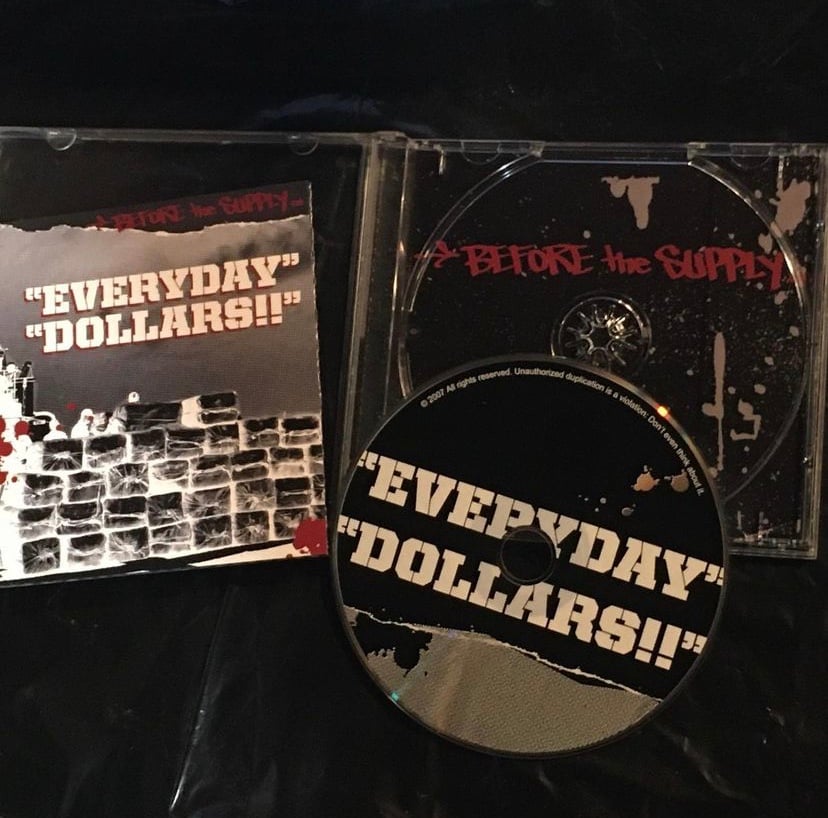 Everyday Dollars CD — Before The Supply
Everyday Dollars CD — Before The Supply - CD
"REAL ILL NYC HARDCORE-PUNK"
Includes the "Bumps, Bruises & Ballantine" demo plus a Necros cover and a live at CB's track as bonus material.
Darkside NYC's singer on drums.
The Uprise's drummer on vocals. (Oi!)
Not as odd as you may think hahaha
This was such a fun fucking band. Nobody gave a FUCK about anything.
Most rehearsals ended up at The Wakamba Lounge. 😈👹
We recorded 2 albums. Mastered both. Never even felt like putting out the 2nd one.
Actually, some of them didn't give a fuck. So I DROPPED them from the label, hahaha
A horrible band to be in actually.
Unless you were Rob.
Rob partied the most.
Poor Sean $ had to round all of us up after gigs and always the driver.
Only occasionally the SKREWdriver. HAHA
It's late. I'm getting hammered.
Probably get asked to change this tomorrow.
Quick — screenshot it. Blame us for everything bad.
Currently negotiating a proper release of the 2nd album "The Age Of Demand" with Rob and Sean.
Maybe after they see this description, I can just forget it though. 🤫😱
For bulk domestic, wholesale or international orders, contact us directly: [email protected]
Tracklist
1 Supply And Demand
2 Kids With A Cause
3 Relapse Waiting to Happen
4 Bad Things
5 Nothing is Missed
6 Ball of Flames
7 Now It's Time
8 No More Favors [Brickhouse cover]
9 Back In The Day [The Uprise cover]
10 Youth Fight (Demo)
11 Friends Fights & Fun [The Uprise cover] (Demo)
12 Now It's Time (Demo)
13 Back In The Day (Demo)
14 Search for Fame [Necros cover] (Demo)
15 Youth Fight (Live at CBGB)
SHIPPING WITHIN THE U.S.A.:
Shipping for the USA is now priced via "zones". We are based in NYC. Your "zone" for shipping purposes is your distance in miles "as the crow flies" from us:
Zone 1 - 0-50 miles (includes NYC and immediate vicinity)
Zone 2 - 51-150 miles (includes Philadelphia, Albany)
Zone 3 - 151-300 miles (includes Boston, Washington, DC)
Zone 4 - 301-600 miles (includes Detroit, Cleveland, Charlotte)
Zone 5 - 601-1,000 miles (includes Chicago, Atlanta, Nashville)
Zone 6 - 1,001-1,400 miles (includes Kansas City, Minneapolis)
Zone 7 - 1,401-1,800 miles (includes Austin, Denver)
Zone 8 - 1,800+ miles (West Coast)
(We gain a buck or two on Zones 1-3 and lose a few on Zone 8.)
Packages are shipped First Class Mail up to 13 oz. (single shirts or 1-2 CDs)
Heavier packages are shipped Priority Mail.
SHIPPING INTERNATIONALLY:
Shipping internationally is based on weight. While it is possible to ship a single S or M shirt to Canada/Japan/Europe for under 8 oz., most packages of 1-3 shirts end up being 9-32 oz. Packages of 4-6 shirts end up in the range of 33-48 oz.
USPS prices as of 2021:
Shipping to Canada: $14.25 (under 8 oz.) / $21.25 (9-32oz.) / $33.00 (33-48 oz.)
Shipping to Japan: $15.75 (under 8 oz.) / $28.75 (9-32oz.) / $45.50 (33-48 oz.)
Shipping to Europe: $15.25 (under 8 oz.) / $25.50 (9-32oz.) / $41.50 (33-48 oz.)
You'll kindly note we take a little haircut on the shipping... (and it's still more than I'd ever wanna pay!)
We therefore encourage *bundling orders* to avoid overpaying shipping on a single item. (Paying $26 shipping for 3 shirts is only $9 each—way better than paying $26 for just one!). While we've enabled the shop to accept international orders, please refer to the guide above. We reserve the right to cancel any order that exceeds our ability to reasonably fulfill it. (For instance, ordering 10-20-30 shirts for the base shipping price only.)