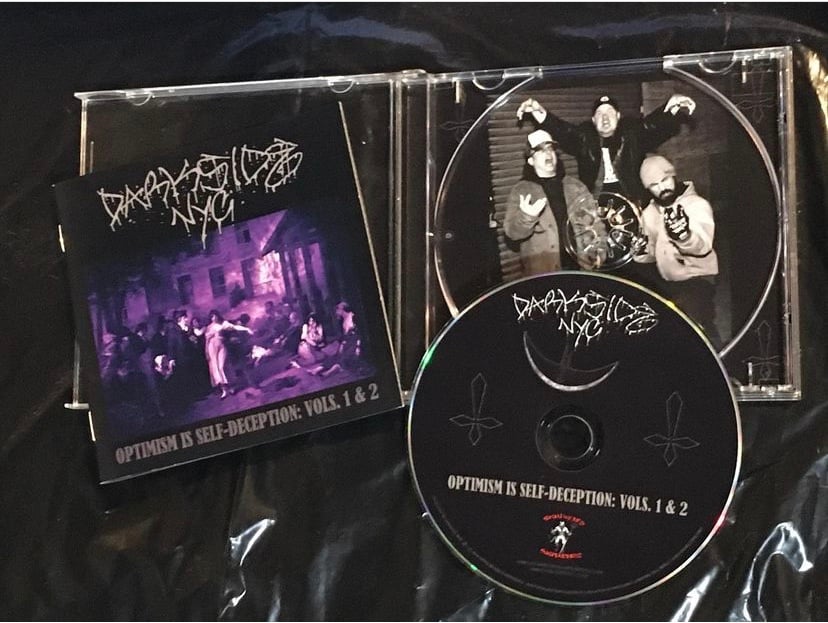 Darkside NYC CD — Optimism Is Self-Deception: Vols. 1 & 2
Darkside NYC — Optimism Is Self-Deception: Vols. 1 & 2 - CD
72 minutes of madness over 23 tracks.
This is a legit double album, not a compilation.
Features previously unheard (new) material as well as re-recorded versions of some older demo-era songs. There's also a bit of harsh electronic noise which you're likely to hate, but it's basically there for our amusement.
Here's what RazorCake had to say about it:
"March 18, 2015
The incredibly long-awaited return of this truly terrifying and vile NYHC institution, Optimism Is Self-Deception (sic) is the first full-length offering from Darkside NYC since 1989's (sic) Ambitions Make Way for Dread, and time has certainly not mellowed this maniacal force even slightly. With a pedigree that includes membership in Sheer Terror, Merauder, All Out War, and more genuinely frightening, classic hardcore acts, Darkside NYC builds upon its roots in New York's urban soundscape with nods to first wave black metal, d-beat crust, and even incorporates elements of dark industrial noise. The outcome is a brutally heavy, vicious record with one foot in familiar territory and the other in a bleak, metallic world all its own. Incredible."
Tracklist
1 Kill All The New Jacks
2 Smelling The Flowers At My Wake
3 A Mockery In My Eyes...
4 Battle For Eternal Souls As The Conquered Ride Conveyor Belts To The Furnaces
5 Tossing Tomatoes At Your Hardcore Heroes
6 Drink To Have A Good Time
7 Drained In Defeat
8 What Ever Happened To Old New York?!!
9 For The Littlest Angels (Inspired By One Who Got Away)
10 It's Given Me A Lot To Live For
11 Vacant Sense Eruption
12 Clawing And Tearing
13 Cognitive Capability Overload (The Ability To Stare Out Into My Own Inner World And No Longer Blink!!)
14 Symmetry
15 My Path Of Least Resistance
16 If All Shows Were This Good, We Would Never Have Called It Quits!
17 Astral Projection On DMT
18 Stroll Through A Falling Rock Zone In My Subconscious
19 Universal Conviction On A False Pretense
20 Casualties Of A Fleeting Existence
21 Slipping Away
22 Bury Me In A Cinch-Sak
23 Driufracrullium
SHIPPING WITHIN THE U.S.A.:
Shipping for the USA is now priced via "zones". We are based in NYC. Your "zone" for shipping purposes is your distance in miles "as the crow flies" from us:
Zone 1 - 0-50 miles (includes NYC and immediate vicinity)
Zone 2 - 51-150 miles (includes Philadelphia, Albany)
Zone 3 - 151-300 miles (includes Boston, Washington, DC)
Zone 4 - 301-600 miles (includes Detroit, Cleveland, Charlotte)
Zone 5 - 601-1,000 miles (includes Chicago, Atlanta, Nashville)
Zone 6 - 1,001-1,400 miles (includes Kansas City, Minneapolis)
Zone 7 - 1,401-1,800 miles (includes Austin, Denver)
Zone 8 - 1,800+ miles (West Coast)
(We gain a buck or two on Zones 1-3 and lose a few on Zone 8.)
Packages are shipped First Class Mail up to 13 oz. (single shirts or 1-2 CDs)
Heavier packages are shipped Priority Mail.
SHIPPING INTERNATIONALLY:
Shipping internationally is based on weight. While it is possible to ship a single S or M shirt to Canada/Japan/Europe for under 8 oz., most packages of 1-3 shirts end up being 9-32 oz. Packages of 4-6 shirts end up in the range of 33-48 oz.
USPS prices as of 2021:
Shipping to Canada: $14.25 (under 8 oz.) / $21.25 (9-32oz.) / $33.00 (33-48 oz.)
Shipping to Japan: $15.75 (under 8 oz.) / $28.75 (9-32oz.) / $45.50 (33-48 oz.)
Shipping to Europe: $15.25 (under 8 oz.) / $25.50 (9-32oz.) / $41.50 (33-48 oz.)
You'll kindly note we take a little haircut on the shipping... (and it's still more than I'd ever wanna pay!)
We therefore encourage *bundling orders* to avoid overpaying shipping on a single item. (Paying $26 shipping for 3 shirts is only $9 each—way better than paying $26 for just one!). While we've enabled the shop to accept international orders, please refer to the guide above. We reserve the right to cancel any order that exceeds our ability to reasonably fulfill it. (For instance, ordering 10-20-30 shirts for the base shipping price only.)
Oh, damn. You still here, reading? Ok, another review then.
Here's what InEffectHardcore had to say about it:
"Things open up literally with a wall of noise (Track one is "Kill All The New Jacks") and after you realize that the first 20 seconds was a noise effect and not a CD manufactured in a third world country you get into what DNYC is partially about. A balls-out blazing fast track that has lyrics that will make many folks UNDER 30 probably hate their guts basically ripping the newer generation for over glorifying 2nd and 3rd rate run of the mill bands. By track 3 titled "A Mockery In My Eyes" you are starting to get the idea that DNYC will go in just about any heavy music direction sometimes even mixing up styles within a certain song.

Rich O'Brien's vocals can go from a more traditional punk style to a spoken word/almost rap style to a satanic 666 style growl from one song to the next. With the newer generation of hardcore fans being so influenced by metal I can't see this not being liked if given a chance. Track 4… "Battle For Eternal Souls As The Conquered Ride Conveyor Belts To The Furnaces" is another aspect of what these guys are doing with a minute plus of noises and oddities that just gives DNYC this overtly evil feel. If you are looking for some posi-core PMA flavor to pogo around your room to this is NOT your band. "Tossing Tomatoes At Your Hardcore Heroes" follows right after and busts into some straight up NYHC and at this juncture you start to really feel the seesaw effect from song to song as you really don't know what is coming next. Who doesn't like a surprise or two? At the root of everything is a heavy hardcore band with everything from congas, violins, pianos, and power tools (WTF?!?) mixed in although they are done in a way that you might miss 'em if you aren't paying attention closely as they are mixed in extremely well. Old favorites "Drained In Defeat", "Clawing And Tearing", and "Slipping Away" are redone and sound AWESOME while further adding to the pot.

Overall, I really like what is being done here with this schizophrenic mix of styles that has you totally guessing what is coming next. Some of it hits really hard and some of it you just have to hit "skip" on (especially the noisy effects if you want to keep what is left of your personal sanity). On the first listen you are not sure if the next track is going to be a hardcore tune, have an acoustic part or be a 15-minute wall of insanity ("Driufracrullium") that could be used to flush terrorists out of caves. This is a deep album, one that you will find stuff that you may have overlooked on previous listens. Keep listening! If you want different and "out there", here you go... "Optimism..." is a CD like none I have ever heard before and probably never will again… until their follow up "Volumes 3 & 4" comes out. (Due out sometime this century)."