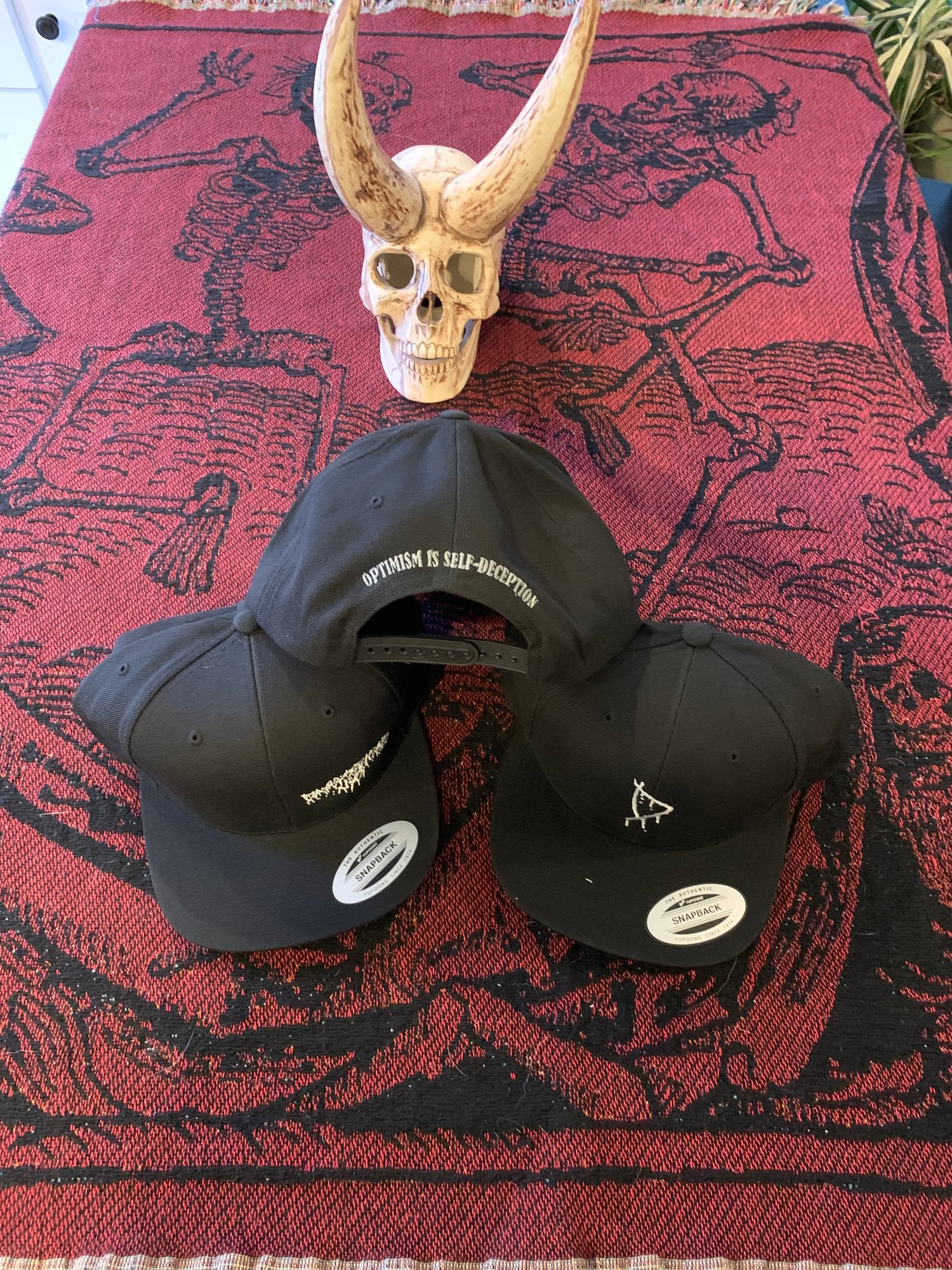 Darkside NYC hat (snapback)
DNYC snapback hat with 2 options:
1–classic "D" embroidered on front.
2–small logo embroidered on front.
"Optimism Is Self-Deception" embroidered on back for both.
YUPOONG Classic snapback.
80% acrylic/20% wool.
One size fits all.
Black with white stitching.
Net weight: 3.5 oz.
The plastic back is strong. I undo it all the time for durag vs no durag haha.
AVAILABLE STOCK (as of July 3, 2022):
classic "D" — 8 left
small logo — 2 left
Limited quantities. Sorry; no wholesale at this time for these.
SHIPPING WITHIN THE U.S.A.:
Shipping throughout the USA is now priced via "zones". We are based in NYC. Your "zone" for shipping purposes is your distance in miles "as the crow flies" from us:
Zone 1 - 0-50 miles (includes NYC and immediate vicinity)
Zone 2 - 51-150 miles (includes Philadelphia, Albany)
Zone 3 - 151-300 miles (includes Boston, Washington, DC)
Zone 4 - 301-600 miles (includes Detroit, Cleveland, Charlotte)
Zone 5 - 601-1,000 miles (includes Chicago, Atlanta, Nashville)
Zone 6 - 1,001-1,400 miles (includes Kansas City, Minneapolis)
Zone 7 - 1,401-1,800 miles (includes Austin, Denver)
Zone 8 - 1,800+ miles (West Coast)
(We gain a buck or two on Zones 1-3 and lose a few on Zone 8.)
Packages are shipped First Class Mail up to 13 oz. (single shirts or 1 hat +1 CD)
Heavier packages are shipped Priority Mail.
SHIPPING INTERNATIONALLY:
Shipping internationally is based on weight. This hat weighs under 4 oz.
USPS prices as of 2021:
Shipping to Canada: $14.25 (under 8 oz.) / $21.25 (9-32oz.) / $33.00 (33-48 oz.)
Shipping to Japan: $15.75 (under 8 oz.) / $28.75 (9-32oz.) / $45.50 (33-48 oz.)
Shipping to Europe: $15.25 (under 8 oz.) / $25.50 (9-32oz.) / $41.50 (33-48 oz.)
We therefore encourage bundling orders to avoid overpaying shipping on a single item. (Paying $26 shipping for 3 shirts is only $9 each—way better than paying $26 for just one!). While we've enabled the shop to accept international orders, please refer to the guide above. We reserve the right to cancel any order that exceeds our ability to reasonably fulfill it. (For instance, ordering 10-20-30 shirts for the base shipping price only.)